Are you a fan of the Discovery Channel's Shark Week on TV? It's a pretty popular program, so I thought I'd get into the act, doxie style:
"Here Comes Meatball"
Staring down each other. Oooooo!
Here's one ready to hit the waves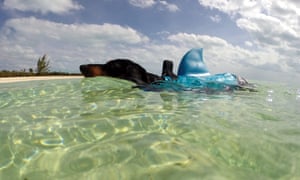 I can practically hear the theme song
from the movie Jaws in my head!
Dachshunds are also known as "land sharks," and they definitely have some of those shark tendencies--just as a badger!